This eBook explains how the OMNIS Unified Commerce software delivers an advantage to furniture retailers looking to leverage automation and operate as a successful omnichannel retailer in the 2020s. It's for those interested to explore how systems can work better across eCommerce, POS and retail management and who need to evaluate the best systems and find the best solution.
Your experience of the limitations of standard furniture retail software may have led you to look for an innovative and technically adept vendor, a specialist who can handle the complexity of selling high end, made-to-order furniture items online, and who can deliver the close personal levels of customer service required to meet the particular needs of your business.
Read on to discover how OMNIS can make a difference to modern furniture retailers and become the foundation for your omnichannel success.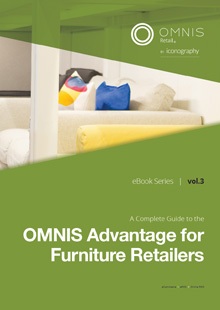 The OMNIS Advantage for Furniture Retailers
---
---