Discussing multi-channel
In this post, we aim to provide answers to the question - what is multi-channel retailing?
And, in pursuit of knowing what is required to update the multi-channel retail model we look at some multi-channel retailing examples.

OMNIS by Iconography
Did you know that our Unified Commerce platform mixes eCommerce, RMS, CRM and EPoS to provide an award winning omnichannel solution?
Would you like to know more? ›
---
What is multi-channel retailing?
Multi-channel retailing is a strategy that offers customers a diverse choice of ways to buy products. In its simplest binary form, a multi-channel retailer is a physical bricks and mortar store supplemented by an eCommerce website. And increasingly common is the eCommerce retailer becoming a multi-channel retailer with a bricks and mortar outlet. The consumer will either source online and buy in-store or source in-store and buy online.
New opportunities have arisen in multi-channel retailing. Multi-channel retailing examples now include more digital purchase options. These include new social media channels, online marketplaces, comparison shopping sites and mobile apps. New additions to the established alternative analogue routes open to a multi-channel retailer. The perennials of telephone ordering, mail order, interactive TV shopping and catalogue ordering.
The aim of a multi-channel retailer strategy is always to maximise revenue and customer loyalty by offering customers choice and convenience. Being a multi-channel retailer allows customers to buy what they want, where they want, when they want.
Business success is measured by increases in sales, improvement in margins and reductions in costs from process efficiencies and economies of scale.
---
Is the multi-channel retailer at a crossroads?
Multichannel retail, with eCommerce as the main driver, is an idea that has been with us for most of this century. As we enter the 2020s the commitment to multi-channel retailing is up for review and renewal. To look forward to defining what is multi-channel retailing let's first take a look back.
These two charts are from ONS statistics and represent a visual answer to the question of what is multi-channel retailing. They show that for the past fifteen years there's been a steady growth in eCommerce as a proportion of retail sales up until 2019. You can map many of the successful multi-channel retailing examples to this upward graph. In the peak month of November in 2018 and 2019 internet sales as a proportion of overall retail sales reached 22%. Then, for obvious reasons in 2020, there's a massive surge to a peak of 37%.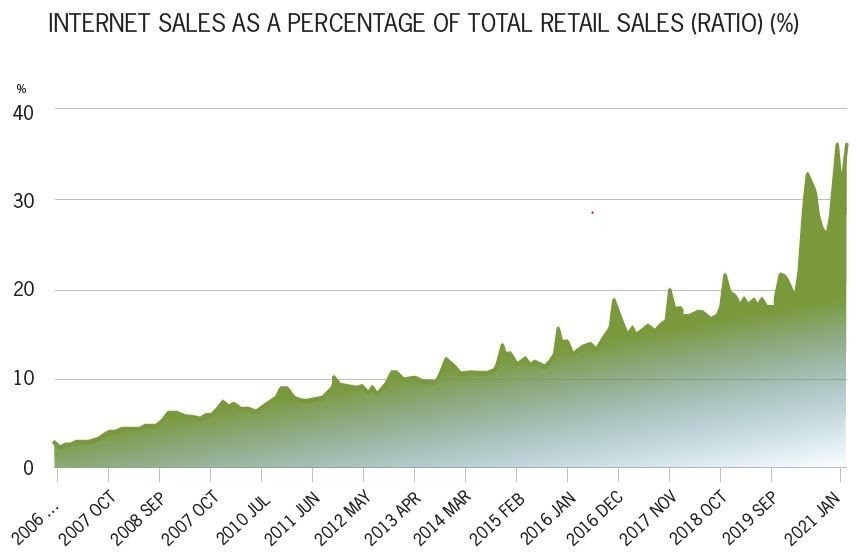 ---
And yet in 2020, again for obvious reasons, we also saw record declines in retail sales volumes, down by 1.9% when compared with 2019. So, overall in 2020 retail sales fell and what was left of them saw a massive shift to online. There are no surprises here given lockdown largely means retail shutdown.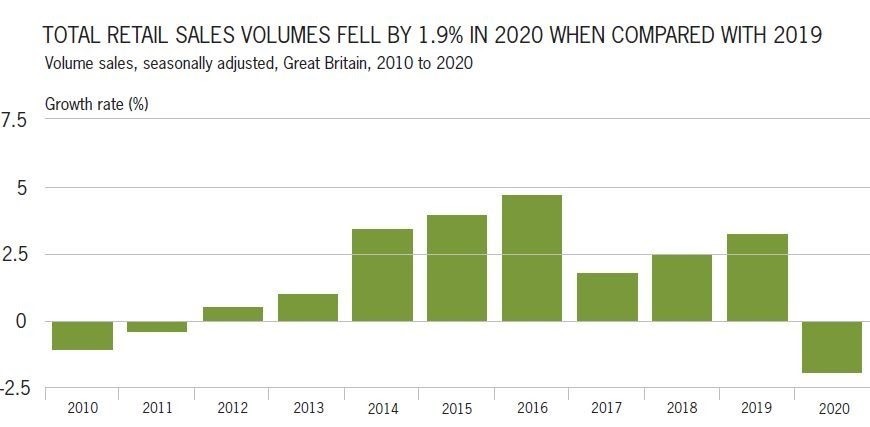 ---
Choosing a multi-channel retail model
The long term trend is clear: more sales are happening online and through digital mobile channels. So, if we are asking the question of what is multi-channel retailing, then it's safe to say that it's eCommerce websites and mobile digital. Investment here is the right thing to do and will deliver an increasingly strong return. What is not so clear is how to treat the physical bricks-and-mortar element of a multichannel retail strategy.
Here the answer to what is multichannel retailing will vary because every individual business and sector will have a different experience and perspective. It's not true that all sectors and high streets have been affected in the same way by the Pandemic. For example, suburban high streets, when permitted to open, have benefited from non-commuting workers. What was prime retail-like Oxford Street in London is now seeing big department stores like John Lewis and M&S converting retail floor space to offices or residential? Across their whole estate John Lewis announced shop closures and a multi-channel retail strategy that reduces bricks-and-mortar. Diversification for them now means non-retail activities like financial services and housing.
Let's dig a bit deeper into the John Lewis example to illustrate the complexity of updating the multichannel retail strategy:
---